New Book Release of Swami Chaitanya Keerti in Pune on Gurupurnima Day 2022
It was a sacred occasion of Guru Purnima this year, and Ms. Sabina Sanghvi, a well-known media celebrity in Pune, launched this book by Swami Chaitanya Keerti– Osho, A Mystic of Love–at Sunderban Hotel, next door to Osho Meditation Resort in Koregaon Park.
On this rainy day during the monsoon, some Osho lovers gathered at this place to listen to the story of Sabina Ji meeting Osho, six months before Osho left his body. She said: "During this brief meeting Osho himself told me that he will be in the body for only six months more."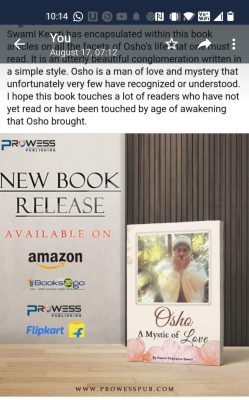 And I do remember that she had told me what Osho had told her the same evening after she had met Osho.
She added: We in the Pune media have known Swami Chaitanya Keerti for such a long time. A very friendly person, indeed! His dedication to Osho's vision and his friendly relationship with the local media has worked wonders. We miss him in Pune. Now we are delighted to have this insightful book–Osho: A Mystic of Love!–authored by this well-known disciple.
People in Pune bought copies of this book, not only for themselves but for their friends also. The author happily signed these copies for all!