"Celebration is my religion," says Osho. And his disciples and lovers did just that with extra verve and rapture on 11 December 2021 when he would be ninety years old if he was still in his body.
The venue was the leafy green Oshodham on the outskirts of New Delhi where over 400, (yes, that many!) converged to meditate, laugh, greet, hug, sing and dance on this historic event.
After remaining closed for almost a year due to Covid lockdown, Oshodham swung open with fresh paint, upgraded facilities and special decorations and new lights. An air of bouncy joy filled the open, sprawling meditation centre amid vast fields and unlimited sky.'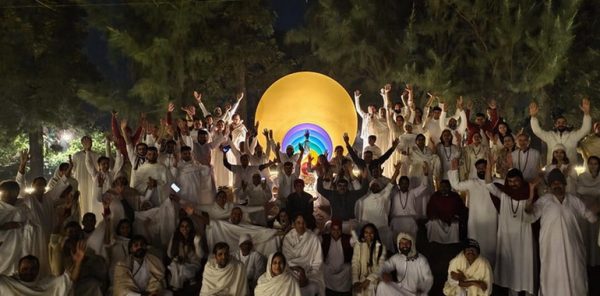 The celebrations took off with gusto on the eve of his birthday when a colourful circular momento standing eight feet high of Mild Steel was unveiled as a group of Osho disciples shouted his name in joy with raised arms reaching out to him. This unique design of seven circles of different vibrant colours was created by the master himself to portray the seven steps to samadhi or enlightenment. Back-lit and mounted on one another, the circles keep getting bigger until the seventh merges with a golden background; thus, its name: The Golden Future.    
On the big day, the daily programme was followed, starting with Dynamic Meditation and Osho discourse. After a tea break, it was time to dance and sing ascetically and that's exactly the ever-increasing group did as they overflowed beyond the huge Buddha Hall. Spilling into the open-air court at the back of the hall, they celebrated under the sunny sky with gusto until it was lunchtime for a delicious special meal.
The sharing session in the afternoon was exceptional as four senior sannyasis took the stage. The Osho World Foundation Managing Trustee, Swami Atul Anand, started off with birthday greetings to the beloved master and went on to outline the mismanagement of Osho Ashram in Pune. Pointing out the massive financial frauds, he said no receipts were issued for entry or therapies, tax avoidance, funds were illegally transferred to foreign accounts, payments for royalties were collected abroad. The total sum is estimated at Rs 1,800 crore! More importantly for Osho disciples, Osho's Samadhi had been erased out. A forged will of Osho was created to capture all his copyrights. After Osho left his body, his ashes were kept in his specially built exquisite circular bedroom later called Samadhi and used for silent meditation. But the current management is flatly denying that there is any Samadhi!
Most shocking and of immediate concern is the conspiracy to sell a part of the Ashram, the Basho Pond. The Ashram where he lived for the longest period of his life is the most sacred, most revered place for all his followers and lovers around the world. This hallowed land of pilgrimage cannot be sold quietly. When Osho sannyasis came to know about this, no wonder they launched several public campaigns to stop this sale. As this issue has not been resolved, the Prime Minister and the Home Minister have been approached.
Ma Dharm Jyoti who has been with Osho since she took sannyas in 1970 clarified that since Osho left his body in 1990, the Osho ashram Pune has consistently declined.
Swami Somnath Bharti, an MLA of AAP Party and an Osho sannyasin (disciple) for many years also addressed the gathering expressing his anguish about the illegal activities and offences committed by the trustees of Osho Ashram. He urged every effort must be made to stop the group from usurping the physical and intellectual property of Osho Ashram.
"Osho initiated people belonging to all religions, caste, colour and ethnicity to the path of truth. Hence, it is incumbent on each one of us to protect the blessed place where Osho lived, gave discourses, and guided seekers into the life of meditation and celebration. This sacred place needs to be kept intact for generations to come. The ashram must be accessible to all his disciples and lovers and no part of this ashram should be sold off.  Moreover, his videos, books and audiotapes should be made available freely and to prevent them from being tinkered with by vested interests. This spiritual treasure should be made freely accessible to each human being."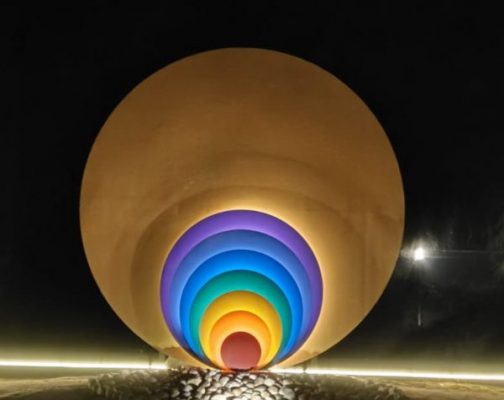 Bharti added, "As an Indian, I am proud that Osho was born in my country and the Indian government is duty-bound to do whatever is necessary to ensure that the Pune ashram trustees don't succeed in their sinister design and they should be held to account for their criminalities."
Swami Anand Kul Bhushan, ex-newspaper editor a UN media consultant and a longtime Osho disciple, read out and explained a resolution detailing the urgent issues for investigation at Osho Ashram. This was passed unanimously by the enthusiastic gathering and was later forwarded to the Prime Minister for action.
The evening White Robe meeting was marked by over 20 eager people initiated into sannyas by Ma Dharam Jyoti. Before they came up for initiation, the celebration music got everyone dancing with great abandon to become one with the master. This intoxication continued for around one hour of sheer music and dance which transported everyone into deep meditation of divine love.
"I am in tremendous love with life, hence I teach celebration," says Osho, "Everything has to be celebrated; everything has to be lived, loved." His lovers certainly lived up to his words at Oshodham which witnessed the biggest birthday celebration in India.
Ends.
Swami Anand Kul Bhushan