Hi,
A pleasure meeting Kam Kaur from the UK last Saturday who has climbed Kilimanjaro twice, Mount Everest, many peaks in Europe and South America with long treks in many parts of the world.
She is a friend of my daughter Neela and came to see her and also met me when I gifted her this Osho quote. She was touched and thrilled by it and said it's not on the peak but inside her.
Yesterday, Kam invited us to a picnic at Sunder Nursery, a huge park developed and upgraded by the Aga Khan Foundation. On a  bright sunny day, we laughed and shared stories at lunch and went to the Rose Garden where the next photo was clicked that shows  Douji a fashion designer from London, Neela and Kam on the far right. The other ladies are Kam's friends who learnt yoga together.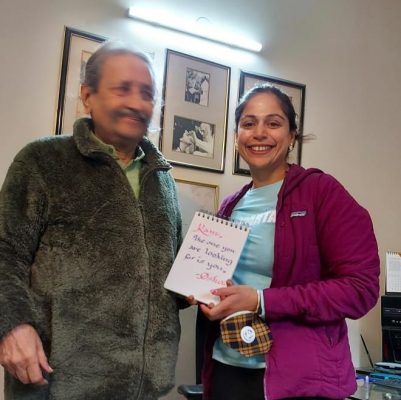 When asked how she started climbing mountains, Kam told me she wanted open spaces and so she started running and made friends in sports. They invited her to run for charity and later go for treks. Then she started climbing and one of her first major climbs was Kilimanjaro eight years ago. She climbed it again in September his year.
Asked why she climbs mountains, he reply was FREEDOM.
When happens when the going gets tough and the peak is far up, "It means to give it all I have and keep climbing."
Her unlimited energy, her ever present smile and frequent laughter with the typical British humour is as impressive as her climbing achievements.