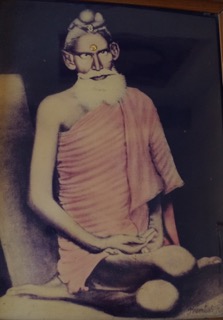 Mahayogi Baba Lokenath Brahmachari
(1730-1890)
Baba Lokenath Brahmachari (1730-1890)
Just as no two flowers are alike, no two Enlightened Ones are ever the same.
Each is wonderfully unique, without artificiality. All knowledge and ignorance are transcended, absorbed in the blissful, egoless state of Sat-Chit-Ananda (Existence – Knowledge – Bliss Absolute). Like all great Enlightened Beings, Baba Lokenath's life, promises and teachings offer every individual, in every moment, in every age and all time a fresh revelation of the ever-elusive Self.
His Birth and Dedication: 
Baba Lokenath Brahmachari was born in 1730 (the date of birth is dipped in controversy) in a village called Chakla in Barasat district, a few miles to the north of the city of Kolkata. His father Ramnarayan Ghosal, a devout lover of God, believed in the age-old Hindu tradition of allowing one person from the family to become a renunciate monk and be totally dedicated to the Divine service.