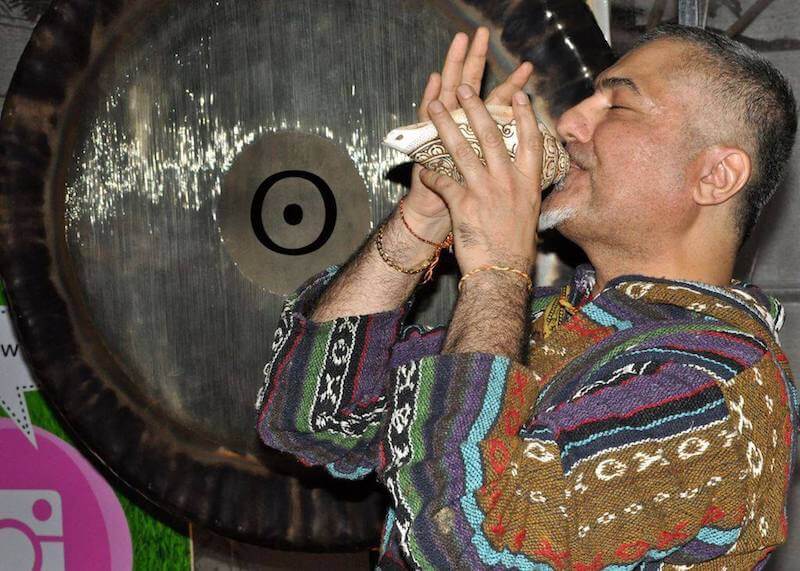 Sanj Hall
Traveling Gong Yogi and Sound Artist
This world is Nada…a vibration…
In India and all ancient cultures of the world, this truth was experientially known by many beings. Healing sounds bring about release of stresses, relaxation, harmony and joy.
A sound journey or a gong session or retreat is an opportunity to explore oneself at a deeper level with healing music and meditation. It's a journeying within oneself with Sounds and Resonance also brings celebration of life, with every cell of the body joining the chorus.
This is an EASY way of getting in meditation appropriate for any age or experience level. The gong helps people to achieve a deeper state of meditation than one is normally able to experience using other methods! Perfect for those new to meditation! On the other hands, regular meditators and healers find gongs taking them even deeper into a vortex where feel lucid dreaming
We have an opportunity to invite Sanj Hall to lead these sessions with us. He is a traveling gong yogi and sound artist, who has taken the divine order to spread the goodness of gongs and holistic resonance and its teaching to the world. He has been conducting sessions/retreats as well as teachings healing sounds in UK, Europe, Middle East, Asia and North America regularly as well as many Ashrams in India.
He also performs meditative "free spiritual jazz" concerts worldwide both as a solo artist as well as in collaboration with other sound artists. He travels worldwide, spreading the sounds of gongs, singing bowls, handpan, drums and many other instruments, touching many lives. In a few sessions of his, he may use sounds of nature, birds or even traffic or even a "distracting sound" to weave within his session. As he says, we welcome all sounds and weave into a sound mantra bead. He also works with modern instruments as well as electronic music, as well as Djs and feels,healings aspects of sounds have no boundaries. He has learned as well as collaborated with many Masters, such as, Yongey Mingyur Rincpoche, Swami Chidananad Saraswati, Grand GongmasterDon Conreaux, Mitch Nur, Bruce Lipton, Shivamani et al.
The gong has been used in sacred ceremonies since ancient times. Its glorious echo has been referred to as the messenger of the gods, the "unstuck" chord of our collective hearts. A gong immersion or "Gong Bath" is a vibration healing sensation that stills the mind and soothes the soul. After bathing in the gong's sound waves many participants report feeling calm, grounded and at peace;others say the experience stimulates pranaand the opening of the chakras.
It is best to experience sound journeys and gong immersions in loose comfortable clothing. At the conclusion of the sesiom, you may feel sleepy, light-headed or energized and in a state of bliss. No prior experience, effort or practice is required to participate, everyone welcome….